Across the United States, people are choosing large cities over sprawling suburbs more than ever before—a fact that has been inescapable since the recession of 2008. In highly dense cities, the influx of people has caused an unprecedented surge in rent and real estate prices as the demand for adequate housing continues to climb—something that we New Yorkers know far too well.
For the recent wave of 20- and 30-somethings, the skyrocketing rents in America's largest metros over the last decade have made the hope of living in a desirable neighborhood seem more like a distant dream. For many people, the choice is either cramming into inefficient shoe-box-sized apartments or moving away from urban cores to the edges of the city where rents are lower. However, for the team at LifeEdited, the solution to finding adequate housing within a decent neighborhood is simple: living with less stuff and adapting micro-sized apartments into functional, suitable spaces.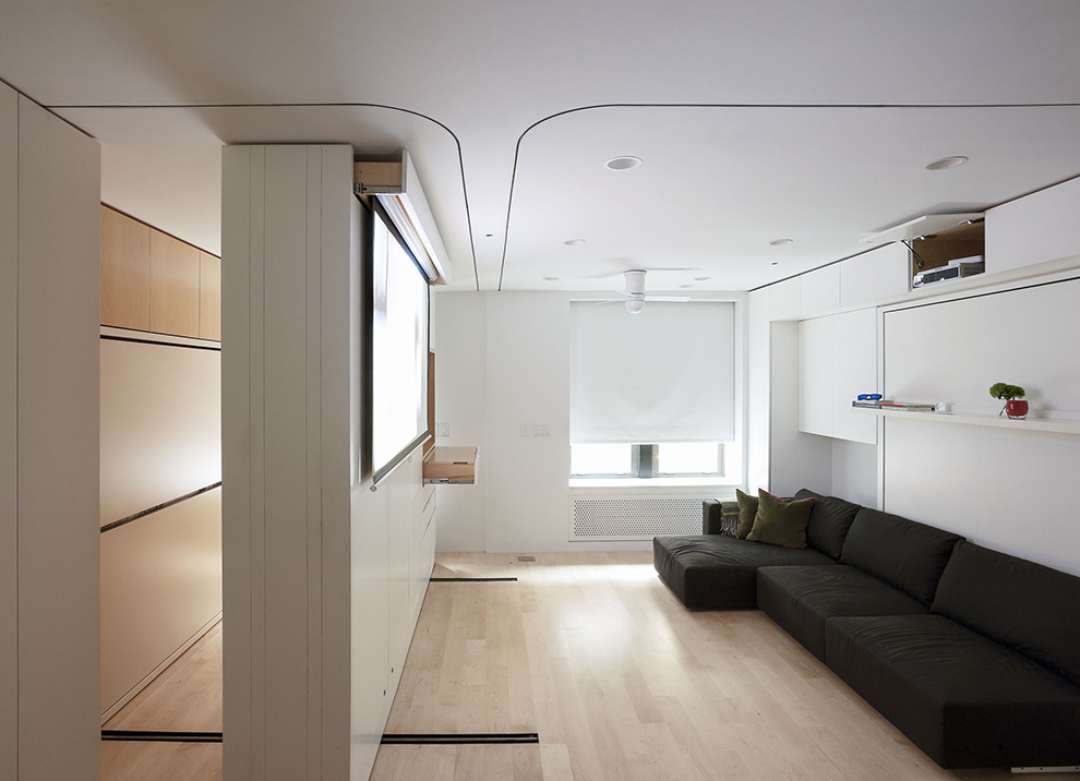 The LifeEdited Apartment
Okay, so maybe it's not that simple. But living smaller and simpler is what editor David Friedlander and his team advise for architects and residents seeking to design a more livable micro-space. Their theory was put to the test in the LifeEdited Apartment, designed for Treehugger.com and LifeEdited founder Graham Hill. "With the apartment," says Friedlander, "we wanted to show that people could do everything they wanted, in terms of a lifestyle, in a far smaller footprint than the status quo might suggest."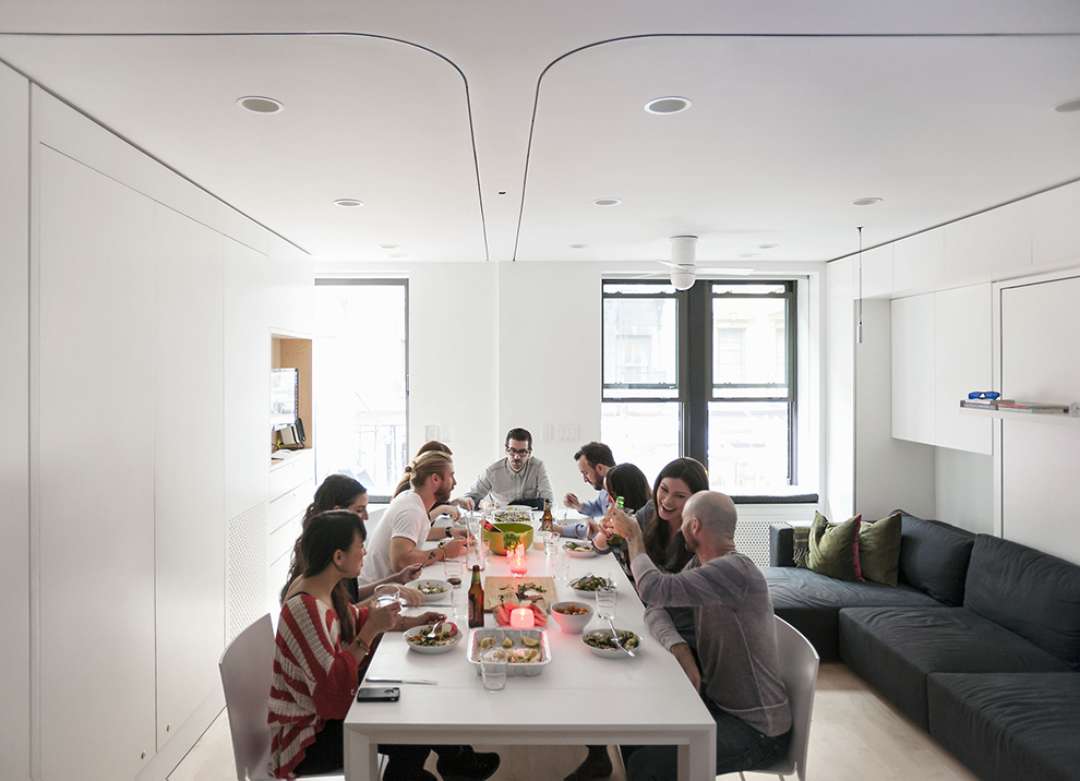 With a modular and minimalist design that provides dining seating for ten, proper sleeping quarters for two guests, a home office, and home theater all within just 420 square feet, the apartment seems to validate Friedlander's beliefs. Fold-out beds and modular couches allow the space to magically transform, providing the function of three different living areas within one compact unit.
The LifeEdited model could be valuable for what Friedlander believes is a growing number of young urban professionals who would rather spend their money and time on fulfilling activities than on homes. "As people are getting more urbanized and desiring more human interaction, they are beginning to question how much space we really need," Friedlander tells Architizer. "People can have compelling lives by creating a home that is more cost effective, allowing you to move into nicer neighborhoods… What's valuable nowadays is location, not space," he continues, "and people are more open to the idea of a 'luxury of less.'" While decades ago, "less" had a negative connotation, today it is increasingly embraced as a lifestyle choice that can lead to increased happiness and decreased stress. "Our homes and our stuff should support our lives more than we should live to support our stuff," Friedlander wisely muses.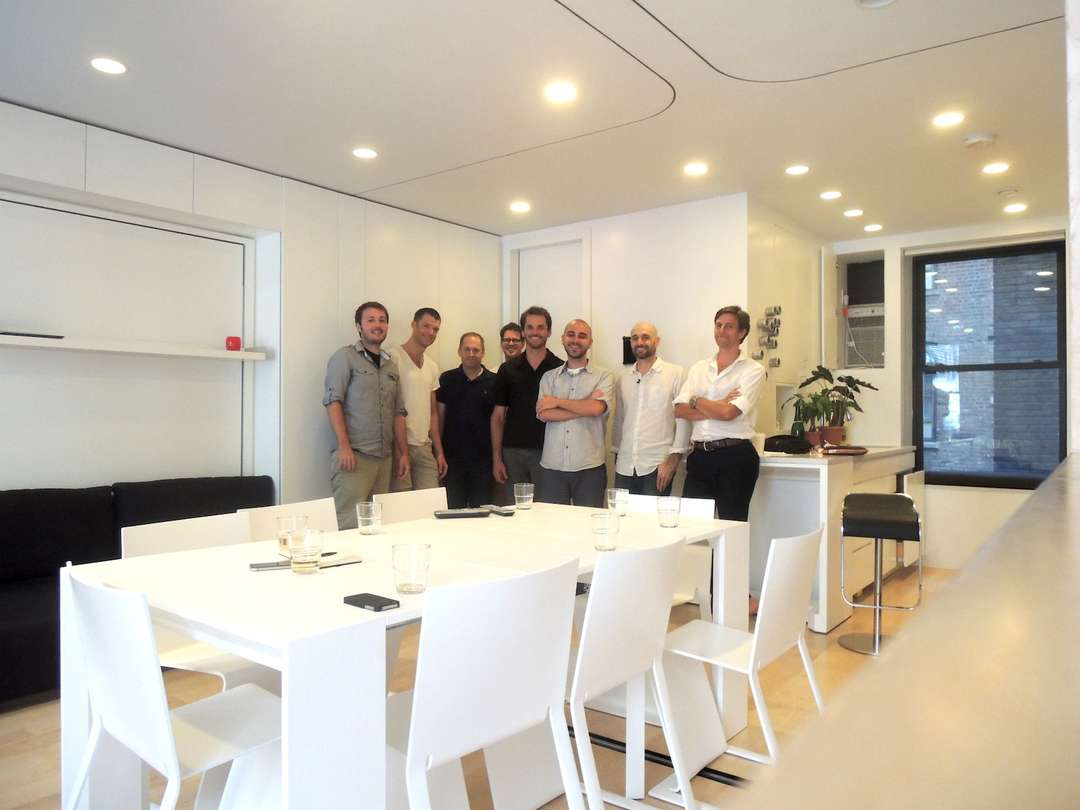 The LifeEdited team in the LifeEdited Apartment. L to R from left: Catalin Sandu, David Friedlander, Ross Porter (COO), Jayson Halladay (advisor), Graham Hill, Adrian Iancu, Shayne Mcquade (advisor) and Scott Glass (of Guerin Glass Architecture)
For LifeEdited, passing on this philosophy is at the heart of their business. The team advises clients about living simpler, pointing them towards new trends, products, and innovations in design that help to make this lifestyle practical. Some helpful topics include "How to Make Your Own Micro-Apartment" and "Edit Your Life On Any Budget." Friedlander states, "Our website is about giving people suggestions on how to do a LifeEdited apartment, while also providing feedback to designers who need advice on what products to use."